Miraval Life in Balance
, about one hour outside of Tuscon, is a very special place. The philosophy of the spa is mindfulness and learning how to live in the present moment. The grounds are beautiful and surrounded by desert. There are many lovely spa treatments you can get (Mom and I got one each daily, including a prickly pear sugar scrub, ayurvedic massage, dreamy creamsicle massage with vanilla oil and orange water, and manicures and pedicures, though there were many more on offer) and pools to bliss out by. There are also fabulous activities from seminars on bringing mindfulness into different areas of your life, to hiking, mountain biking (which I learned to do-- scary but so much fun!), all kinds of aerobics and conditioning classes, yoga, guided meditation, photography, trail riding, and more.
There are also the challenges, which are basically these wild outdoors challenge courses. I didn't think I would partake being a huge fraidy cat, but I ended up completing three of them-- the one where you climb up a 25 foot pole and jump off, the one where you traverse a wire 30 feet up, and the one where you are hoisted 40 feet up on a rope and have to let go and swing like a human pendulum, and it looks a little something like this: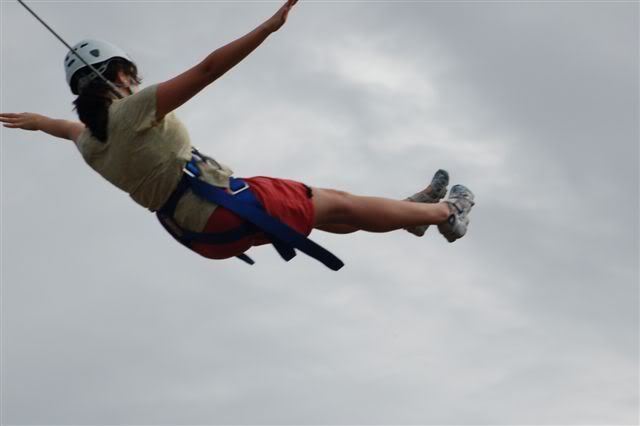 Patch flies through the air with the greatest of ease!
All three challenges were crazy and taught me so much about myself and the way I approach other challenges in life, plus they left me with a new image of myself as this powerful, fearless woman. ROAR!
But, the point of this blog and therefore the topic of discussion today is the cuisine at Miraval. Unlike many other spas, Miraval does not make its guests diet or starve, two things in which I have no interest. In fact, this is one of the reasons I chose this particular spa while doing my research (and also, they are not dry). I did joke that we would all waste away, though, because the food, while delicious, is super healthy and shockingly low-calorie. How do I know? By every dish there is a little card giving you the calories, fat, protein, carbs and fiber along with the suggested serving size. The chefs do a fantastic job of making things that are colorful and tasty using little tricks to make them healthy. And deprivation is NOT on the menu.
Breakfast
There is a set breakfast menu at Miraval with about 6 entree choices each morning. My mom and I fell in love with the smoked salmon on a potato cake. It came with fresh tomatoes, capers and onion, and featured delicious salmon piled on a salty and hot potato hash-brown patty. All this at, if I recall correctly, under 200 calories. I also like the huevos rancheros, which came in under 100 calories. (Crazy, I know.) There is also a breakfast buffet which always has steel cut oatmeal (45 calories for half a cup, according to the card) and fresh fruit, along with egg entrees including a fabulous 150 calorie breakfast burrito in spinach wrap and buckwheat pancakes that were similarly non-fattening. Basically you could eat to your heart's content knowing it was nearly impossible to overdo it. A diet-conscious person's dream come true.
There was also strong, good coffee and other drinks you could order from the coffee/smoothie/juice bar, which also had delicious frozen yogurt. This bar stays open all day from 6 A.M. to 6 P.M., and all the coffee, wheat grass shots, juices and smoothies you could ever want are included in your stay.
Lunch
At lunch, two different entrees were on offer every day. One was usually a fish, and the other a vegetarian dish or a salad. On the first day, I had a chicken tostada that was FIFTY CALORIES (crazy low) and was actually delicious. From then on I often ordered the fish which included escarole, halibut and more. It was usually great. There was also the buffet which was always available. It usually had a different hot and a cold soup daily (the mango jalapeno cold soup was a favorite), baked sweet potatoes, bean salads, hot entrees such as turkey burgers, a sandwich bar, and a well-equipped salad bar, along with fruit and many tasty and disturbingly low-calorie desserts such as little brownies, tarts, and cookies (which, due to their healthy nature, were hit or miss). Also on offer was iced tea in mango green, china black, raspberry, or prickly pear. We tried them all and loved them. My favorite was mango green.
Dinner
Dinner was the best part of the cuisine, in my opinion. You sign up outside the smoothie bar every day for your time slot. Like the other meals, this could be taken in Miraval's air conditioned dining room or outside on a patio with a beautiful view of the desert mountains (where my mom and I literally sat every day of the trip, even with the periodic and stunning torrential thunderstorms-- Arizona has a monsoon season, who knew?). The dinner menu had around 5 First Plates including appetizers, soups and salads, and 5 Second Plates which featured a variety of entrees including one or two vegetarian options per night.
Many of these spas don't have alcohol, but Miraval does, which is wonderful. Before dinner, my mom and I would have some of the cheese and veggies that were put out each evening and sit at the bar with the sommelier, Warner Forth. Warner, who has been with Miraval basically since it opened over ten years ago, is incredibly knowledgeable about wine with passion to match, and a fantastic conversationalist. While we chatted, he would recommend one of Miraval's many very good wines by the glass depending on our mood. He also made a killer martini and a lemon drop to die for, his own special recipe, which he gave me permission to post here and is below. This was my favorite part of each evening.
Then we'd move on to our table where we might order a second glass of wine while we ate. Some of my favorite first plates included snow crab claws served with cocktail sauce in a martini glass, and prosciutto and goat cheese salad. The best entrees I had (though all were great) were pistachio-crusted lamb chops and a delicious venison with wine demi-glaze. As always, the calorie and nutrition stats for each dish appeared on the menu and as usual, they were shockingly low.
There was a set dessert list each night along with excellent herbal teas served in a beautiful personal-size cast iron kettle tea set. The desserts included a decent creme brulee, coconut sorbet, hazelnut roulade, and more, and occasional specials. Like some of the other things I ate at Miraval, I found these desserts just too healthy for me to really enjoy. For people who want something sweet and a large-ish portion, the dessert was perfect. I would rather have one bite of something "real" (a.k.a. bad for you) than a huge only-okay dessert any day, so I was not much impressed. (There were a couple of other dishes, too, that couldn't be made healthy without losing their goodness, such as the lobster bisque.) However, I
was
impressed by the commitment to keep things healthy.
Conclusion:
Healthy Gourmet Achieved!
All in all, we were well-fed and well-fueled for each day's adventures. Lovely, leisurely and healthy meals were one of the many pleasures of being at Miraval. I can't wait to go back!!!
Warner's Lemon Drop
2 parts lemon vodka (i.e., Stoli Limon)
1 part Limoncello (an Italian lemon liqueur)
1 part fresh lemonade (fresh lemon juice and simple syrup)
Shake all ingredients together until very cold. Serve in sugar-rimmed martini glass with lemon twist garnish. Enjoy and be happy. (Thanks, Warner!)
:-P
PS: Another cool feature is that at every meal, you can ask for little cards to request recipes. The spa will mail them to you or email them, your choice. I have some recipes coming!